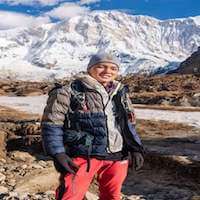 Govinda Gurung
Manager Director
Born amidst mountains in a beautiful remote village in Nepal, Govinda Gurung is not only a reliable mountain guide but also a strong team leader who is running Himalayan Frozen Adventure. Being raised understanding the simplicity in the complexity of the high snow-capped mountains; Mr. Gurung has got a deep attachment to the Himalayas. This made him become a part of the flourishing and shining tourism industry in Nepal. With over years of expertise in the industry, he decided to establish Himalayan Frozen Adventure with a hope to share the beauty of the Himalayas through his perspective with people from all around the globe. Over the years, Mr. Gurung has led many groups in different parts of the Himalayas successfully and smoothly. He loves sharing travel experiences and memories. With a motto to run eco-friendly and sustainable tourism, he has been implying numerous measures while running trek or tour.
Mr. Gurung has completed his schooling from his hometown and later moved to Kathmandu for high school and graduation. He graduated in the travel and tour industry and did several different courses to strengthen his skill in trekking and climbing. He has mapped almost all the trekking trails and climbed many mountains. Taking you back in time, Mr. Gurung started his journey with one step at a time. He was working with other trekking companies in several positions. Gradually, he got international level training from Nepal Academy Travel and Hotel Management (NATHM) and Kathmandu Environment Education Project (KEEP), which has helped increase his confidence. After getting his trekking guide license from the government of Nepal, he never looked back and touched high points not only in the Himalayas but also in his career.
Now he is more than excited and glad to welcome you as his guest and make memories that will last throughout your life and thrive as part of Himalayan Frozen Adventure memories.