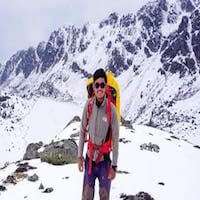 Arpan Gurung
Trekking Leader
Arpan Gurung is a professional trekking leader of Himalayan Frozen Adventure Company who has the well Himalayan experience and he also gets a guide license from the Government of Nepal. Diligent Arpan was born in a hidden region of Ruby valley and he is most strong. After completing the porter level, he starting guide training, First Aid Training, Ice climbing Training. He succeeded to get a license from Government.
Mr. Arpan Gurung is helpful, responsible, and hospitable. Almost all of the trekking regions did he explore, so he will lead any part of the Himalayan Nepal trek route. He sharing his adventurous experience with our client, and make the journey most incredible and safe.
He came from the Ganesh Himal region after finishing her school level and continues study at Travel & Tourism, then he came to join with Himalayan Frozen Adventure. He did work very hard and best with us. Arpan provides comfort and excellent services for every valuable client. Mr. Arpan success to get a great achievement award for Trekking and Hiking.